Let us amplify our voices on
World Orphans Day.
Wear purple on
November 13, 2023
to draw attention to the global orphan crisis.
In 2023, over 153 million children are orphaned globally.
In 2023, over 153 million children are orphaned globally, with 443,000 in the U.S. foster care system. Like many other countries, the U.S. grappling with a growing homelessness crisis, and it's crucial to recognize that homelessness, especially for children, has devastating and long-lasting consequences. Several countries, including Russia, Iran, Colombia, Brazil, Mexico, South Africa, and Peru, have high orphan rates.
To shed light on this pressing issue and raise awareness about the plight of orphaned, homeless, and vulnerable children, The All For One Foundation, in partnership with The Stars Foundation, will "Go Purple" on November 13th, marking World Orphan's Day 2023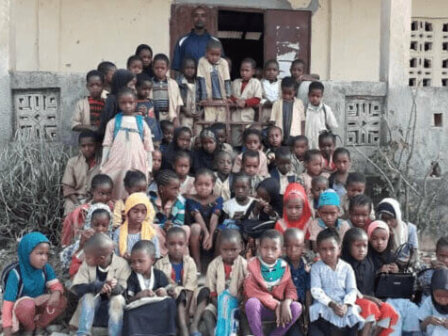 We invite you all to "Go Purple" with us,
and together, let us amplify our voices to draw attention to
the global orphan crisis.
Your involvement and support would make a meaningful difference, helping to create a brighter and more hopeful future for countless children in need.
Pre-order a purple T-shirt and light up your porch or city buildings in purple on November 13th for World Orphan Day. Although t-shirt pre-sales have ended, you can still order your shirt! Order by November 1st to ensure ontime delivery of your shirt. If you order after November 1st, select shirt sizes will be available. We also will not be able to ensure that your shirt will arrive ontime for the this year's event.
But, here is the fabulous point… late for this year only means early for next year. Order your shirt here.