When a crisis like the Ebola virus happens in a country like Sierra Leone, we know we've got work to do. Our commitment to the region started in 2015 and continues to this day.
In January 2015, All For One Foundation partnered with Sierra Leone International Mission School (SLIMS) in Freetown, Sierra Leone, to help a community afflicted by the outbreak of the Ebola virus, which left thousands of children orphaned and impoverished.
In 2017, All For One Foundation again partnered with SLIMS to build a Sierra Leone Child Prosperity Center to function as a safe haven for children and families in need of additional support and services. The center will provide interim housing and care for up to 100 children who await a forever home, while also functioning as a place of hope for families to remain unified and ultimately thrive. The center also plans to provide sustainability courses in personal farming, literacy, recycling, job preparation, and small trade training. The 22,000 sq ft Prosperity Center is in progress and expected to be completed by July of 2021.
Through our partnership, the clinic at the school was able to purchase the necessary equipment and supplies to properly screen incoming patients, thus remaining open to serve the surrounding community during the Ebola crisis. The funding also helped 4,000 children to return to school once the school was able to re-open and enabled the start of an Ebola outreach program for kids.
Sierra Leone's population is 7 million people, and more than half of the population is living below the poverty line.

The UN Development Program Index ranked Sierra Leone 181 out of 185 West African countries (Borgen Project, 2020), influenced by food insecurities and malnutrition.

Almost 40% of children in Sierra Leone suffer from stunted or impaired growth because of chronic malnutrition.

Due to malnutrition, the rate of mortality for children under 5 years old was 10% in 2018, as reported by the Borgen Project.
Helping a child now helps an entire community later.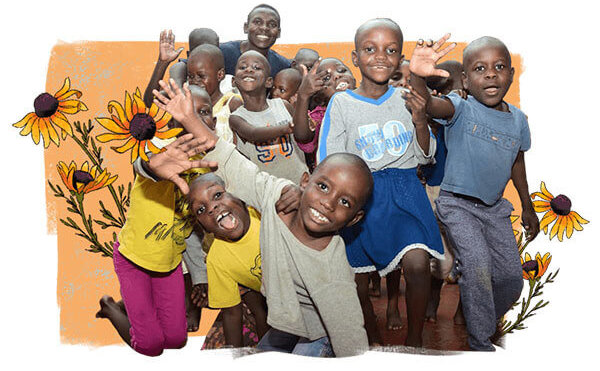 Kajoma Child Prosperity Center
Uganda 2018
This is your opportunity to make a bigger impact than you ever thought imaginable.
All for One is growing and reaching more children around the world. Our sponsorship program allows individuals to sponsor the cost of supporting one child in need in areas All For One is currently developing.
You can make a difference in the lives of the children by becoming a sponsor. Sponsorship provides the opportunity for the orphans at Hellen's Pre-Primary school. The children are orphaned in Uganda due to HIV/AIDS pandemic, famine, drought, and civil unrest. By sponsoring a child/children, you will get unique access to newsletter to a child/children you decide to sponsor.
Thank you for your interest in sponsoring a child.