With a population of almost 51 million, Colombia is the second-largest country in South America and surrounded by five other South American countries. Our focus in this country is to help decrease infant mortality and give adolescent mothers the support they need.
In 2017, All For One Foundation partnered with JuanFe in Cartagena de Indias, Colombia, to help children born to teenage parents. The objectives are to decrease infant mortality and empower adolescent mothers through comprehensive programs.
JuanFe focuses on improving the living conditions of teenage mothers living in poverty. In 2017, All For One Foundation partnered with JuanFe in Cartegena de Indias, Columbia, in support of helping children born to teenage parents. The partnership focused on vulnerable children and adolescents living in extreme poverty and contributed to an increase in attendance in school and increased nutritional support.
In 2020, AFO reunited with JuanFe to support the program, which now offers full support of participating teenage girls between ages of 15 to 19. The "360 program" currently includes 800 teenagers, 800 children younger than 15, and 2,400 family members. The 360 program offers an education program providing technical training and soft skills, psychological care and personal empowerment, prevention of pregnancies, sexual and reproductive health and family planning, and food security. Currently, the program has 1,800 people providing psychological care, personal strengthening, maternal care, preventative recommendations, and sexual and reproductive health and rights. The academic program has more than 90% attendance and a 0% dropout rate.
About 30% of the country lives in extreme poverty.

About 79% of indigenous children suffer from malnutrition and undernourishment.

13.2% of children under 5 years old suffer height gain delay, and 30.2% are at risk of stunting (height gain delays).

1 in 4 children has iron deficiency, 24.3% of children under 5 are deficient in Vitamin A, and within the same age group 50% are deficient in zinc.
*The Columbia Institute of Family Welfare (ICBF) survey of nutritional situations in Colombia
Helping a child now helps an entire community later.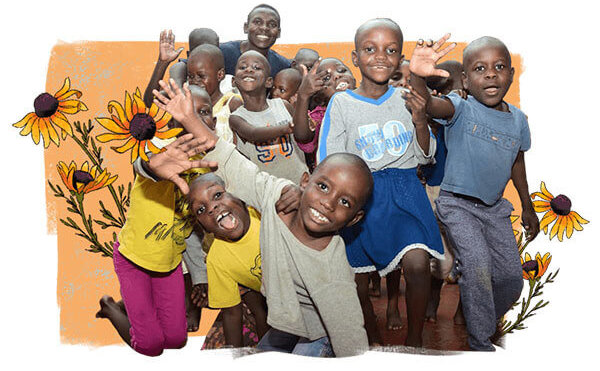 Kajoma Child Prosperity Center
Uganda 2018
This is your opportunity to make a bigger impact than you ever thought imaginable.
All for One is growing and reaching more children around the world. Our sponsorship program allows individuals to sponsor the cost of supporting one child in need in areas All For One is currently developing.
You can make a difference in the lives of the children by becoming a sponsor. Sponsorship provides the opportunity for the orphans at Hellen's Pre-Primary school. The children are orphaned in Uganda due to HIV/AIDS pandemic, famine, drought, and civil unrest. By sponsoring a child/children, you will get unique access to newsletter to a child/children you decide to sponsor.
Thank you for your interest in sponsoring a child.